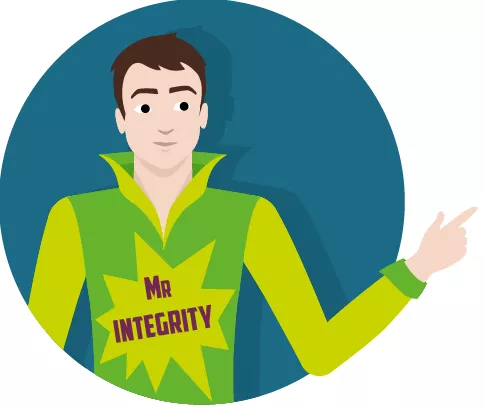 In this section you will find the text of the policies that each Elior Group employee must apply when working with third parties
Our external contacts are also encouraged to apply these rules when they wish to invite a Group employee or offer a gift, and you must also take into account the rules set up by the companies or organisations with which you are in contact.
These are the policies related to:
Conflicts of interest
Intermediaries
Sponsorship and patronage
Gifts and entertainment
In addition to the explanations provided here, do not hesitate to contact the GCO, your CO or RC for more information.
A Conflict of interest policy
Conflict of interest is a situation in which a personal interest may influence the professional behaviour of an employee.
Summarizes three principles to remember :
Inform your supervisor
Make a declaration to your CO or GCO through an email by clicking here. 
Undertake not to participate in the conclusion or life of the contract.
The text of our policy should be read carefully: UK/USA/India
Policy towards intermediaries
Intermediaries can take various forms: business providers, agents... Their intervention represents a potential risk of corruption, which is why the use of an intermediary is the subject of a policy that you can consult here: UK/USA/India In summary you must comply with 3 rules of conduct illustrated below.
Sponsorship and patronage policy
As an extension of the Elior Group Positive Foodprint Plan, we support initiatives that promote healthy eating and a balanced lifestyle.
In addition, as a local economic actor particularly involved in the education and health sectors, it is part of our role to support cultural initiatives or those that help to promote sporting values.
Sponsorship is the group's participation in the life of the communities with which we are regularly in contact
Patronage is a participation in a public interest project. For example, the group supports initiatives to fight cancer, prevent heart disease, promote professional integration and promote gastronomy,
A policy specifies the conditions that govern our actions.
A commitment in this area must comply with the following rules:
Gifts and Entertainment Policy
Our integrity policy does not exclude exchanging gifts, inviting or being invited by our contacts provided that this is in conformity with commercial practices and that its purpose or effect is not to exercise a disproportionate influence that could amount to a corrupt practice.
Precise rules of conduct are set out in our "Gifts and Entertainment Policy"
Policy on agreements and joint actions
All our commercial actions must be carried out in compliance with the rules laid down by law and by fair business practice. 
We refuse any behaviour that could resemble an agreement or an exchange of information between competitors, intended to distort or reduce competition.
You can consult our competition policy EN
A particular attention must be paid to the exchanges of information. Take the time to assimilate the rules presented in the video opposite.